Philips Diamond Clean Smart Toothbrush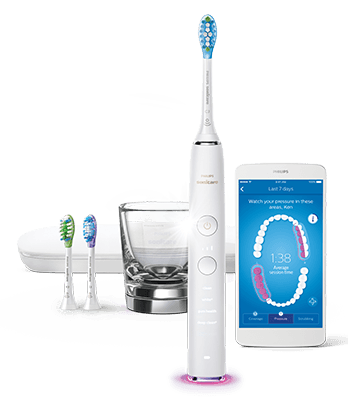 Sonicare DiamondClean Smart toothbrush delivers unbeatable performance and great looks, giving you a month's worth of manual brushing in just two minutes. Get 100% coverage with 100% confidence.
I love how the toothbrush has five different cleaning levels and the two minutes shut off. I now brush for two minutes without thinking about it. The first two times I thought it was long but that extra 30 seconds becomes a habit. We found his and her version on sale at Costco.
It has an awesome hard travel case and has a USB charger which is perfect for travel. I don't use the charging cup to rinse with, I lay my brush sideways over the sink on a washcloth to dry then put back in the charger. Less gunk to clean up that way. 
Sugarbearhair Women's Multi-Vitamin Sugarbearhair
SugarBearHair® Women's Multi-Vitamin gummies are an easy-to-use, scientifically formulated, vegan vitamin complex designed for women! 
Formulated with Omega-3, Vitamins B-12, C, D-2, E, and more! 16 micronutrients to help supplement vitamins many women may be missing in their recommended daily diet. Designed with folate, a form of Vitamin B-9!
These tasty beauty bears contain vegan sourced amino acids which may aid in collagen production!*
Made in the U.S.A! Free of artificial sweeteners and flavors! You will taste and feel the difference!
I take so many pills that taking a gummy vitamin is a must to stick with the program. I believe what we eat is digested better than what breaks down in a tablet form. They taste great, not too sugary.
M3 Naturals All Natural Deodorant In Apricot Chamomile  M3 Naturals
It's Aluminum Free, Sulfate Free and, Paraben Free. I don't like how hard it is, it doesn't melt well but it works. I've tried probably 10 different Aluminum Free deodorants and always break out. I bought it on Amazon.
Doctor Rogers Restore Healing Balm Doctor Rogers
Our healing balm is a multitasking miracle worker. It aids in healing dry, damaged skin, lips, and nails. This super versatile staple offers relief from chapped lips, dry nails and cuticles, eczema, skin surgery, lasering, tattoos, cuts, scrapes, burns, and so much more. It can also be used to add shine to lips, style unruly eyebrows, and tame flyaways.
I received this balm in my Causebox subscription box last month. It's a great all-purpose healing balm, I've been using on hot spots, mosquito bites, lips, and cuticles. 
Aromalief Lavender Hemp Pain Cream  Aromalief
Aromalief is made cruelty-free in Florida, USA in an FDA-Regulated Facility for your safety. THC-Free. Paraben & Dye Free. Shellfish-free. Vegan. There are three different fragrances to choose from. 
This weekend they are offering my followers 15% off with discount code: HAPPYBDAY15  
I love this cream so much I purchased four more tubes yesterday. Here's a link to my review of the Lavender Hemp Pain Cream. 
https://lookingforthelight.blog/2020/07/23/review-of-aromalief-hemp-pain-relief-cream-special-discount-code/
UK brand Life Amour 100% Natural Nutrition Life Amour
Life Armour supplements nourish from within to protect against the stresses and strains of modern life. Our 100% natural formulas work in harmony with your body. Whilst our intelligent blends adapt their function according to your body's needs to help reduce the effects of modern life.
The Drop od Balance tastes nice, no lingering after taste. I take one ampule per day at night before bed, they help me sleep thru the night and getting more REM sleep. The Drops of Balance were nominated for the Vogue Beauty Award 2020, along with many other accolades including ravings by Liz Earle. I also take the Super Me supplement, it's hard to say how much they have worked since I've only taken for a month. I've had no side effects form which is important. 
Private Selection Kona Blend Coffee Medium for Keurig  Kroger
Private Selection Kona Blend Coffee is a smooth all-Arabica blend of 10% hand-selected Kona coffee blended with South and Central American coffee beans, chosen and blended for their complex yet smooth flavors by Private Selection coffee experts. Kona Blend is medium roasted in batches and then packaged in convenient K-Cup® pods so that every cup brews up the rich, smooth, and full flavor.
No photo for you on this one. I can't believe the taste for the money! No more expensive Kona for me. I love the way it fits our Keurig and delivers great taste every time. I've been drinking for over a year now and never had an issue with the quality.   
Re-energize, Re-generate and Seek Wellness
Melinda