I'm excited to share with you the news that the International Pain Foundation published one of my posts on their blog today. A special thank you to Barby Ingle, President of the International Pain Foundation for her generosity.
Background on the International Pain Foundation
International Pain Foundation (iPain) is your Power of Pain headquarters. We recognize the value of every person who makes up the chronic pain community. We are guided by our commitment to excellence, leadership and patient empowerment.
They also publish iPain Living Magazine.
iPain Living Magazine delivers relevant information on chronic pain challenges, tips, tools and resources that puts pain into context in peoples' lives. Through medical content, insights from experts and real people, and spotlights on topical news, we answer: how it happened, what it feels like, what you can do about it, and why it matters.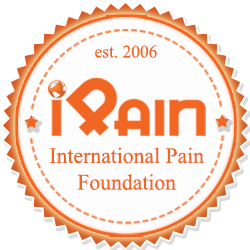 Here's a copy of the post on their blog.
If you suffer from chronic pain I encourage you to check out their website to see the extensive list of resources they provide the pain community.
Melinda