Steph Curry Responds To Girl's Letter About Why His Shoes Do Not Come In Girls Sizes
November 30, 2018
A 9-year-old girl wrote a letter to NBA star Steph Curry pointing out that his shoes do not come in girl sizes, and not only did Curry respond, he made a change.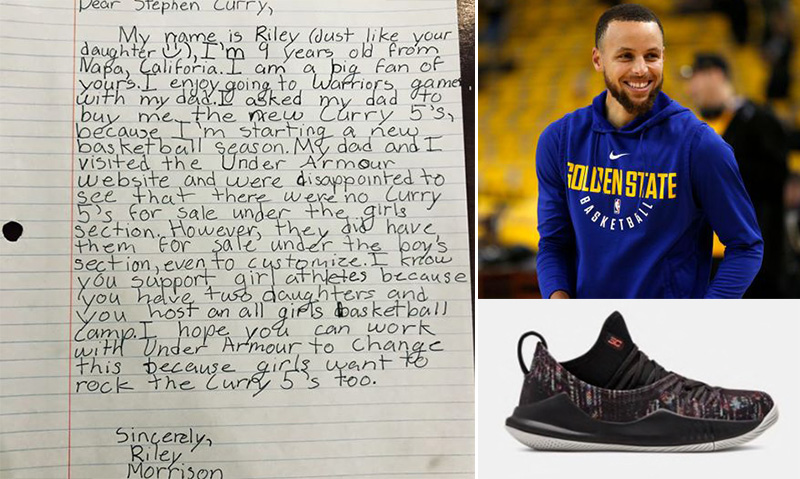 Riley Morrison wrote in her letter that she's a big fan of the Golden State Warriors point guard and she wanted a pair of Icon Curry 5 sneakers, but when she visited the Under Armour website to buy them, she didn't see them listed under the girls' section.
"Dear Mr. Stephen Curry,
My name is Riley (just like your daughter), I'm 9 years old from Napa, California. I am a big fan of yours. I enjoy going to Warriors games with my dad. I asked my dad to buy me the new Curry 5s, because I'm starting a new basketball season. My dad and I visited the Under Armour website and were disappointed to see that there were no Curry 5s for sale under the girls section. However, they did have them for sale under the boys section, even to customize. I know you support girl athletes because you have two daughters and you host an all-girls basketball camp. I hope you can work with Under Armour to change this because girls want to rock the Curry 5s, too.
Sincerely,
Riley Morrison"
On Thursday, Steph Curry tweeted the handwritten note that he sent Riley in response.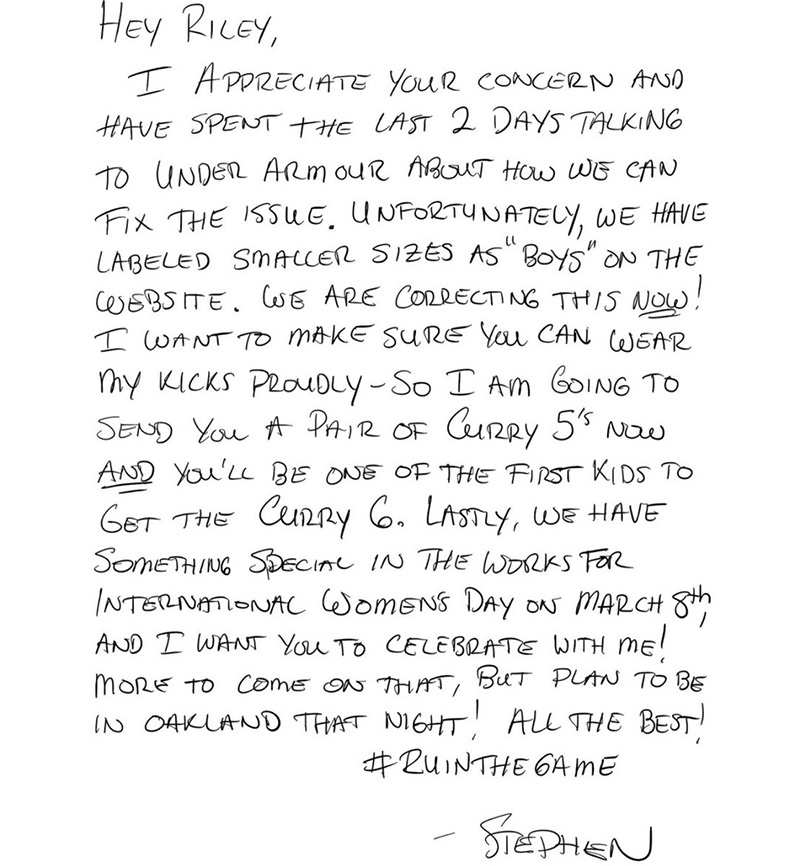 He said he has now worked with Under Armour to put them in the girls section too, and sure enough the shoes are now there.
Curry has been an outspoken advocate for women's rights, writing earlier this year, "I want our girls to grow up knowing that there are no boundaries that can be placed on their futures, period."FacebookTwitter
Melinda