'Defeated' Mom Gets Support From United Airlines Crew And Passengers During Child Meltdown
August 28, 2019
A mother is praising a United Airlines crew and the passengers who supported her while her four-year-old son with autism was having a meltdown on their flight home from a family vacation.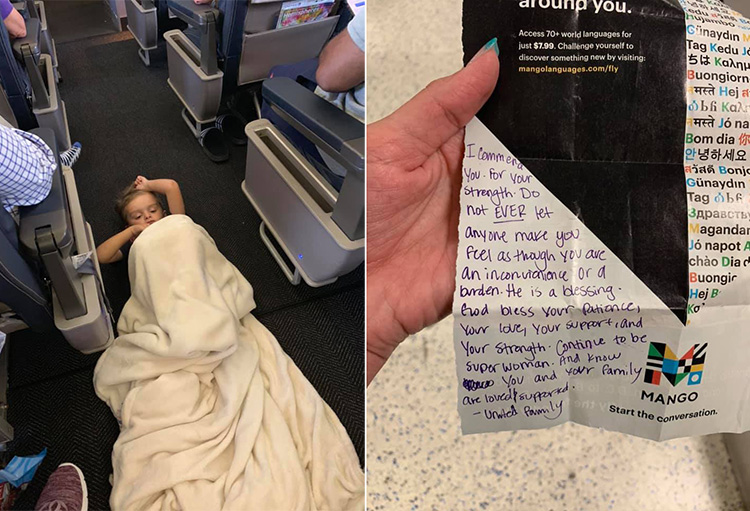 Credit: Lori Gabriel
This is what Lori Gabriel wrote on Facebook.
"So my little flyer (he's autistic but normally loves to fly) didn't have such a good flight home.
Trying to get him to stay seated was impossible he wanted to sit on the floor in the hall and in first class.
Huge thank you to united airlines they accommodated his needs, made sure we were all ok, worked around where he choose to sit.
To the lady that wrote me this note in seat 7D thank you, you may not know how much that means to us when we feel defeated. Thank you for helping and being kind just so happens she also works for United.
To the man in first class seat 6C you rock thanks for playing with Braysen and not minding him kicking your seat or messing with you! He loved your high fives!
Hopefully they will see this you never know with social media how fast word can spread but y'all made our flight less stressful being so understanding!
Shout out to the flight attendants Joseph Nation, Heather Bursid, and Rhonda they couldn't have done a better job.
United really showed up tonight and helped us through this flight SAN-IAH flight UA2210."
The note Gabriel received (pictured above) reads:
"I commend you for your strength. Do not EVER let anyone make you feel as though you are an inconvenience or a burden. He is a blessing. God bless your patience, your love, your support and your strength. Continue to be a super woman. And know you and your family are loved and supported."
~~~GUIDELINES~~~
Keep your post to below 500 words.
All we ask is you link to a human news story on your blog on the last Friday of each month, one that shows love and humanity.
Join us in sharing news that warms the cockles of our heart. No story is too big or small, as long as it goes beyond religion and politics, into the core of humanity.
Place the WE ARE THE WORLD BLOGFEST Badge on your sidebar, and help us spread the word on social media. Tweets, Facebook shares, G+ shares using the #WATWB hashtag through the month most welcome. More We Are the World Blogfest signups mean more friends, love and light for all of us.
We'll read and comment on each others' posts, get to know each other better, and hopefully, make or renew some friendships with everyone who signs on as participants in the coming months.
Add your post HERE so we can all find it quickly.