Cosmopolitan
by JENNIFER SAVIN APR 20, 2021
"It's emotional for me"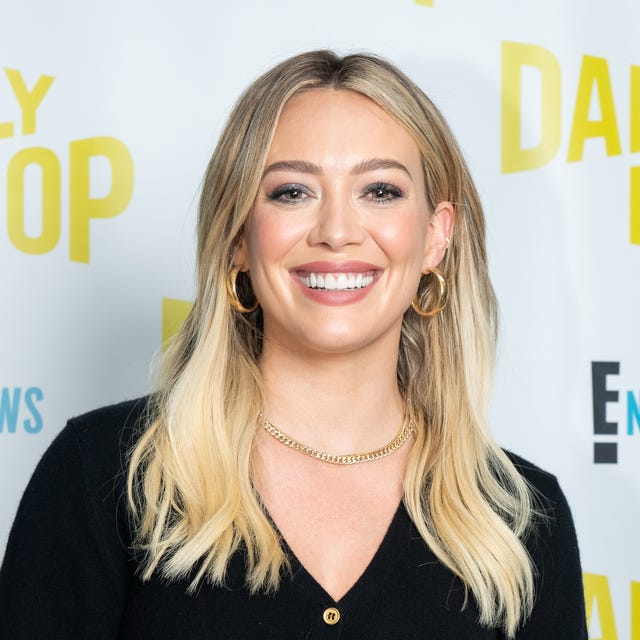 E! ENTERTAINMENTGETTY IMAGES
Actress Hilary Duff recently welcomed her third child, an adorable baby girl named Mae James Blair, into the world and just got super candid about everything from her labour to the anxieties that come with breastfeeding on a new podcast episode.
Speaking on Dr. Elliot Berlin's Informed Pregnancy, Hilary spoke about her experience of breastfeeding all three of her children, remarking that she sometimes has difficulty producing milk. "All of the babies latch really great; I'm just not a huge milk producer, so it's emotional for me," she said, before adding that so far she's been "exclusively been breastfeeding" Mae.
Hilary continued on to say that feeding is even more of a challenge this time around, because she also has two other children (Luca, who is 9, and Banks, aged 2) to care for this time around too. "Just still painful and it's hard, and it's even harder having the other two that I know need me so much, and this takes up such a huge portion of the day," she said. "It seems like every 20 minutes I'm feeding the baby, and I have to be sitting in one place."This content is imported from Instagram. You may be able to find the same content in another format, or you may be able to find more information, at their web site.https://www.instagram.com/p/CM7alyzDuP3/embed/captioned/?cr=1&v=13&wp=1316&rd=https%3A%2F%2Fwww.cosmopolitan.com&rp=%2Fuk%2Fbody%2Fhealth%2Fa36173475%2Fhilary-duff-breastfeeding%2F#%7B%22ci%22%3A0%2C%22os%22%3A96478.00000000001%7D
The mother-of-three also discussed the tricky conundrum of how her anxiety can affect the amount of milk she produces too, which in turn leads to more anxiety. "Right now, I don't know that I'm not producing as much as I need, but I think, since I haven't in the past, I have tons of anxiety that I'm not, and that she's not getting enough," she explained. "And then I'm in my head, and then I don't feel like enough, and then the spiral continues from there."
She also shared that she's making an effort to "sit back and chill and trust that [her] body is doing the right thing and [Mae is] gaining weight" in an effort to overcome those worries though.
It wasn't just breastfeeding that Hilary discussed during the interview either; she also shared that she had both Luca and Banks present during the birth of Mae. "It was kind of important for me [for Luca to be there] because I'm really big on being open and honest with him about how strong women are and what childbirth looks like," she explained, adding that Banks came into the room "right after the fact".
We love that Hilary is so honest about her parenting journey! Anything that normalises breastfeeding or birth is totally a-okay with us.
Cosmopolitan UK's current issue is out now and you can SUBSCRIBE HERE.
Like this article? Sign up to our newsletter to get more articles like this delivered straight to your inbox.